Winchester Road | Huntsville, AL (UNDER CONTRACT)
Walmart Outlot for sale in Huntsville, AL, located on Winchester Rd NE & Homer Nance Rd.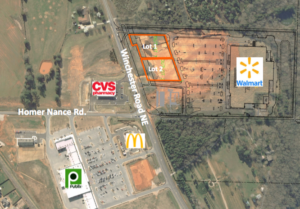 Located in a high-growth area of northeast Huntsville, this outlot is situated immediately in front of Walmart Supercenter #7324, the newest Supercenter in the Huntsville market.
There is no restaurant restriction or drive thru restriction. Average traffic is 17,141 VPD (2014).
1.13 Acres
View PDF Flyer
Highway 280 | Birmingham, AL (UNDER CONTRACT)
Located just off the intersection of Hwy 119 and US-280, this property is across the street from Walmart, Lowes, Chick-Fil-A, Dollar Tree, Petco, and more.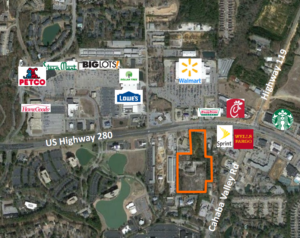 Demographics:
1 Mile - Population: 4,100, Median HH Income: $79,500
3 Mile - Population: 35,800, Median HH Income: $82,800
5 Mile - Population: 68,100, Median HH Income: $79,800
14.92 Acres
View PDF Flyer